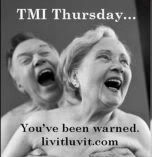 So it's TMI Thursday time, hosted by the indescribable
LiLu
. . .
***Alright, folks, you know the rules. Join us all in humiliating the crap out of yourself every Thursday by sharing some completely tasteless, wholly unclassy, "how many readers can I estrange THIS week??" TMI story about your life. Or hell, about someone else's!
And today, in the absence of a more personal post, I'm going to talk about something else . . .
Here's a clue . . .
see more
funny facebook
stuff!
Can you guess???
That strange "hobby" which goes by the name of
bestiality.
I just don't
get
it.
(I'm SURE I'm not the only one.)
Once upon a time I missed a documentary about this subject and to this day I'm very disappointed about it. My flatmate at the time told me all about it though. About the woman who lost her virginity to a dog. Or the one who apparently said "I love to suck my stallion" - and by that she DIDN'T mean "Italian stallion" or another euphemism for a well hung gentleman. . . she meant her HORSE!!!
Why would anyone
do
this?
When I was on the train home from Manchester there was a couple who had a tiny little puppy - they got on at Oxenholme and me and my friend spent most of the rest of the journey staring at it, talking about how gorgeous it was.
And NOT because we wanted to have a threesome with it!
(It was so tiny we'd probably have crushed it, for a start...)
But that poses an interesting question - where is the line between thinking a dog is cute and wanting to be on it, Ron Burgundy style? Or when does "I'd like to go for a horse ride" turn into "I want to ride that horse HARD?"
If you do rude things to a sheep, it's hardly going to whisper sweet nothings in your ear afterwards.
It's probably going to say "BAAAA" and wander off to be sheared. (Maybe that's the equivalent of showering the filth off you after a dodgy one night stand?)
You think a GUY doesn't care whether it satisfies you? I'm pretty sure an ANIMAL won't . . .
Just a thought.
Anyway, I repeat . . . I just don't GET it.
I think maybe the culprits, if caught, should be forced to marry the animal.
It worked in Sudan
after all - I talked about it back in August 2008 when one of my colleagues showed me an old news story about the subject - Charles Tombe married "Rose" the goat after being caught having sex with it. (Apparently shortly after the marriage, the goat gave birth to a kid - NOT a human kid, an article stressed.) Not long after, sadly Rose died. She choked on a plastic bag.I don't know how Charles felt about this.
(Just read the
FUNNIEST comment
on it ever though on an internet article about the whole affair -
"Man meets goat, eyes meet across a field and love ensues. They marry - and then some old bag comes along and ruins everything!"
MWAH-HAHAHAHA!)
ANYWAYS, I just find it all decidedly odd. But I decided to turn it humorous and combine TMI Thursday with a belated Cheer-Me-Up Tuesday and include one of
my favourite jokes
. . . which IS related. Here goes . . .
There was a guy riding through the desert on his camel. He had been travelling so long that he felt the need to have sex. Obviously there were no women in the desert so the man turned to his camel.

He tried to position himself to his camel but the camel ran away. The man ran to catch up to the camel and got back on and started to ride again. Soon he was feeling the urge to have it again so once again he turned to his camel. The camel refused by running away. So he caught up to it again and go on it again.

Finally after riding the camel through the whole desert the man came to a road. There was a broken down car with three busty beautiful blondes sitting in it.

He went up to them and asked the women if they needed any help.

The hottest girl said ,"If you fix our car we will do anything you want."

The man luckily knew a thing or two about cars and fixed it in a flash.

When he finished are three girls asked, "How could we ever repay you Mr."

After thinking for a short while he replied,"Could you hold my camel?"
HAHAHAHA!
For further TMI stories visit LiLu's blog later on today. And try NOT to think about how damn sexy your pet is . . . ;)
(I wonder if this post will help increase the amount of strange search engine terms I receive. I kinda hope so . . .)