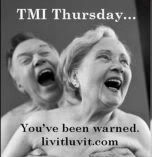 Alright, folks, you know the rules. Join us all in humiliating the crap out of yourself every Thursday by sharing some completely tasteless, wholly unclassy, "how many readers can I estrange THIS week??" TMI story about your life. Or hell, about someone else's!
I was inspired by
LiLu's tale last week to recount this particular tale . . .
I am NOT a fan of farting.
My family, on the other hand, ARE
Weirdly enough, the worst culprit is my mum! Back when I was younger, we'd be wandering around the supermarket and suddenly . . . SNIFF! . . . we'd realise there was something yucky-smelling hanging around.
"Do you smell that mum?"
At which point my mum would put on an innocent expression and wander off, leaving us with a decidedly dodgy smell and sudden realisation that the stench was HER doing...
So just before my 30th birthday last October, me and my little sister met up with my mum for lunch in one of our oft-frequented pubs. My mum, while not a vegetarian, is not particularly fond of meat either, so tends to go for the vegetarian option. After spending about half an hour scanning the menu, she opted for the five bean chilli. Although to be fair to her, she provided a disclaimer "You know how beans give me wind."
Thanks Mum.
So we left the pub and headed into the city centre again. As we waited at a light to cross the road, suddenly I caught a whiff of a disgusting smell. I looked at my sister. "Did you smell that?" I asked. Almost in tandem, realisation dawning, we turned to my mum. She was wearing that tell tale expression.
"I TOLD you what beans do to me!" she objected.
"MU-UUUUM!!!" we wailed in unison.
As we wafted the smell away from us, she said "Well it was five bean chilli. That's ONE bean taken care of..."
We couldn't help but laugh at that one.
But by the time we left her, ten minutes later, she only had two beans left to expel.
I pity the other passengers on her train home . . .